DESTINATION LES SAINTES AND MARIE GALANTE !
During a 4 to 6 days cruise, we can sail to Les Saintes and Marie-Galante, going through Gosier or Dominica Island. Both these places offer splendid anchorages, on land and under water explorations (Easy Snorkeling).
An "a la carte" cruise where you get to choose between tourism and learning to sail. Hoist the main sail and maneuver the boat if you like !
LES SAINTES ARCHIPELAGOS
A 2 to 3 days cruise will get un to Les Saintes Archipelagos. Made out of 8 different islands, and listed as of the most beautifull bays on the UNESCO ranking, this place is ideal for tourism and to discover sailing. Amongst the possible activities : Snorkeling at le pain de sucre, cabris island and over a wreckage…An excellent manner to discover Les Saintes in a different way !
An "a la carte" cruise where you get to choose between tourism and learning to sail. Hoist the main sail and maneuver the boat if you like ! Program of your cruise : Sailing, snorkeling explorations (gear provided) in nice spots, on-land excursions (the little village is cute, and little hikes in nature are possible),  beautiful anchorages,  nice sandy beaches, having a cocktail at sunset and small pleasures like jumping in the water at sunrise. Going there is about two to three hours, just enough to try sailing but not to adventurous. An ideal destination that everybody will love !
MARIE GALANTE :
Marie Galante is the Islands of turquoise waters and endless white sandy beaches. It's countryside, everything is so calm. Rhum and distilleries are a strong local touristic economy. We can enjoy nice little hikes on cliffs and mangrove next to the anchorage. In Saint-Louis anchorage, there is a nice restaurant and bar with occasional concerts. There you can rent a car for the day if you want to thoroughly visit the island (Not Included).
QUICK FACTS :
Private Sail ship with skipper/teacher just for you and your friends/family.
All Inclusive : Food & Beverage, anchorage fare, gasoline, diesel, bed sheets. (just bring your towels)
A la carte cruise : Choose between tourism and learning. Maybe a bit of both ?
Fresh food, fish, fruits and veggies from the market and homemade marmelade ready and packed for you in the boat when you arrive on board. Everything we need to prepare delicious though simple meals.
Options designed to things simple for you. See below
Qualifications of you skipper (Licensed Captain and Teacher)
Properly maintained boat.
A team at your service : Explain us your desire and ideas, Rêve de Nav' will offer you your dream cruise.
Starting from Rivière-Sens Marina, next to Basse-Terre. 9.00AM/5.30PM.
ALL INCLUSIVE DAY PRICE FOR THE BOAT  :
(To be multiplied by the number of days)
| Number | Price |
| --- | --- |
| 1 to 2 Persons | 1000€ |
| 3 Persons | 1050€ |
| 4 Persons | 1100€ |
| 5 Persons | 1150€ |
| 6 Persons | 1200€ |
Options Goin In/Goin Out :
"Arrival the night before" : On board meal and accommodation from 7.00pm for an early start. 300€.
"Vegetarian Diet" : Free on written demand.
Beware, except for those options, every started day (9am to 17.30pm) must be paid in full.
---
PEASE CHECK DATES AMONGST THE WHITE BLANKS :
---
MARIE GALANTE REGARDING WIKIPEDIA :
Marie-Galante is an island of the West Indies in the Caribbean Sea located south of Guadeloupe and north of Dominica. It is a dependency of Guadeloupe, which is an overseas department and an overseas region of France. Marie-Galante has a land area of 170.5 km² (61 sq. miles). It had 11,528 inhabitants at the start of 2013, with a population density of 67.6 people per km²…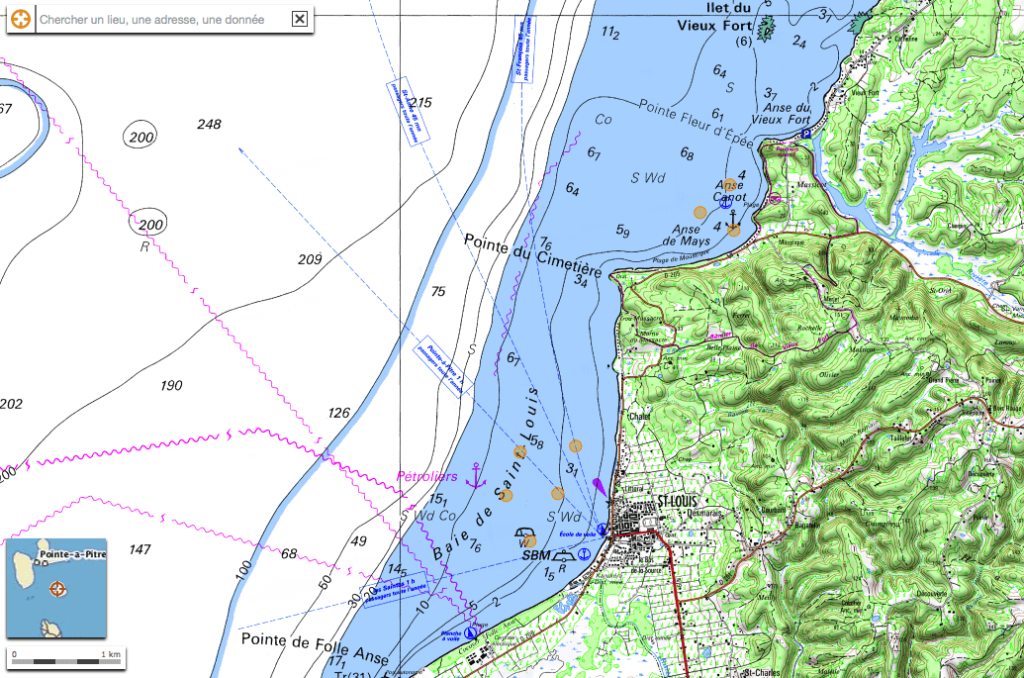 Source : Géoportail, IGN Littoral. Full map on Géoportail
Marie-Galante offers two quality shallow and turquoise water anchorages. It's a dream come true place, famous in the Caribbean.
– Anchorage at the bourg de Saint-Louis
– Anchorage at the l'Anse Canot